Mobile Menu
Paradisepark: a space falling in time, sea, ocean, life, love'

Paradise Park; is an installation of a dream–state, representing a space in between the Atlantic ocean and the Caribbean sea and connected to a new hybrid globalized subject .A project influenced on immigrants, heritage and storytelling. At the same time, an allegory representing ideas and concepts.
Project 'only beautiful words -Crossing life
Project only beautiful words is an ongoing light installation with only beautiful words.It investigates the relationship between light, space and memory.The project has been invited and installed in several locations.Aruba, Miami, New York, Lebanon, Nepal and Ecuador.It is a catalyst, suggesting public communication, community solidarity and collective consciousness .
 'I always thought that every one is the same'- The immigrant
Public Art  installation -light sign 2002-2003
L.G.Smith Blvd # 30, Oranjestad, Aruba
Concept – The immigrant
If each human being is an individual with a complete network of senses of his own and a special combination of abilities, then the vision of each human being will be different, and the way in which each individual determines his life will be a unique interpretation. Captured in the complexity of civilization, man often loses sight of his human destination. The artist not only records the physical data of his own being, but has to act as an interpreter, a translator of human experience. Art functions as diagnosis, definition, and standard for human life.This work is a very important statement , because these words I have always heard through my life. These words come from my mothers heart, she had always thought me these words, "everybody is the same" I have always lived these words. Until I have experienced and discovered through life that this is not the truth.I used the language english, as it is the first universal language.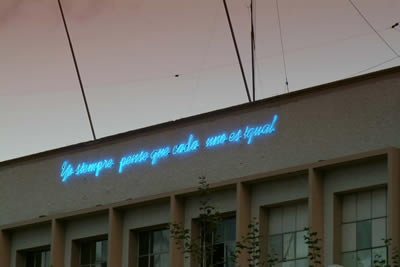 'Yo siempre pense que cada uno es igual'- Numbers as tools
Public Art  installation -light sign 2004
8th Bienal de Cuencar, Banco de Fomento, Ecuador
Concept – Numbers are tools
Humanity's fascination with numbers is ancient and complex. Our present relationship with numbers reveals both a highly developed tool and a highly developed user, working together to measure, create and predict both ourselves and the world around us. But like every symbiotic couple, the tool we would like to believe is separate from us (and thus objective) is actually an intricate reflection of our thoughts, interest, and capabilities. One intriguing result of this symbiosis is that the numeric system we use to describe patterns, is actually used in a patterns fashion to describe. In learning how to abstract, we learn that all information is potentially expressive in numbers.One consequence of abstraction is that we must ignore the individual characteristics of entities we abstract.
Apart from the existence of the numeric system and numbers, individual numbers have no meaning.Thus, our number system is seen as an objective tool-a tool that does not reflect human preference, emotion, or inconsistency. As such it is a tool used not to express ourselves, but is reserved only to describe the world around us.We do not write poetry with numbers, nor do we express our personal doubts or prejudices through them…except as our humanity is projected onto the emotionless toil of mathematical proof, ledger balances, or pedagogical exercises.Herein I return an analyses to the public in the form of an interactive visualization, whose aim is to provoke awareness of one,s own numeric manifestations.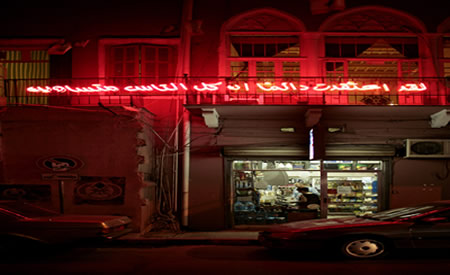 I always thought that every one is the same'- New religion
Public space installation / 'light sign 'on building
Studio Beirut- Gemmayzeh-Rue Gouraud Beyruoth Lebanon
Teoretica, exposicion 'iconofagia , Costa Rica Aug –Sept 2007
Photographer: Frederic Lezmi
Concept- New religion
Light used with a purpose;
'psycholinguistics' a free word order language'
psychological and phonological language in public space.
Where there is light, certainly there is darkness also. What is darkness? Absence of light. When you don't recognize the light, you see Darkness. What is dark to you is bright to a cat or tiger or a bat. It's all relative. And when you have one, you have the other also. You cannot only have one side of the coin. But the moment that you know that darkness is part of the whole, it is not darkness anymore. The real darkness lies in your ignorance of what it is. Your not knowing is the darkness. The minute you know, you respect both sides, and it's no longer darkness. Don't we respect both day and night? We want both day and night. Night makes the day complete. Pleasure and pain are also two sides of the same coin. If you only want pleasure and hate pain, you become miserable. After one, the other is certain to follow. When it comes and you don't want it, you fight it. Instead, we must recognize that life is like that. If someone is nice to you and you demand that he or she must always be nice to you, always respect you, then you are seeing only one side. If the other side comes, you deny the person, you hate the person. You should know that the other side will also be there. Love that person for the other side also. Then you are in a different light where there is no darkness at all. That is what you call collective light. That light is not like the light that casts a shadow, that light is a shadow less light. Once you go into that state, you will see the light and darkness, but you respect them both.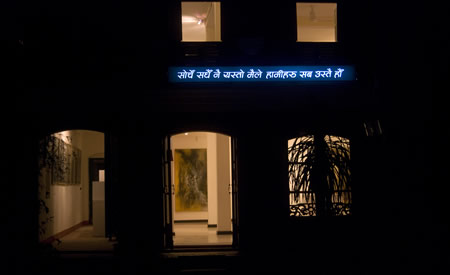 I always thought that every one is the same'- New language
Public space installation /neon sign
Nepal, Siddhartha Art gallery 2009
Exhibition The Myth and the Reality'
Concept: New language
How many spaces are in between a sentence
How many years does it take to see what you want to listen
How many hours does a day have to carry all the invisible
How many minutes does it take to explode
How many seconds are there in a lifetime
"The title for my installation 'I always thought that every one is the same' is self-explanatory: love rarely comes easily and if it does, it usually goes quite quickly. and there is death, and loss, which at some point in our lives we all have to deal with. I'm constantly fighting with the notion of  love . Always searching the gab that love can fill when it 's not there. I have to constantly remind myself that  no matter what the circumstances , love is not a feeling but a decision. The goal of my work is to re-live the past and today's emotions. My Art is the space between my language and the invisible world. It allows me to re=experience fear, to give it a physicality. That the moment has gone by, but the space is filled with visual memoirs. I am saying in my work that what I could not make out in the past , allows me to re-experience the past, to see the past in it's objective and realistic proportions. That fear is a passive state, and the goal is to be active and in control ,to be alive to deal with here and today. As my brain experiences the duality of subjective and objective, my sense of  beauty swings between the two, space and language. I am torn between the two, and  I have learned to accept them both. Through the years this space has been transforming in shapes and forms.This space has allowed me to see and understand the unable ness to make myself loved. I am still motivated by an attraction to 'the other' which is a mysterious beauty, it allowed me to reach the level of my soul and spirit. As per today I can make this statement ; I need Art like I need God.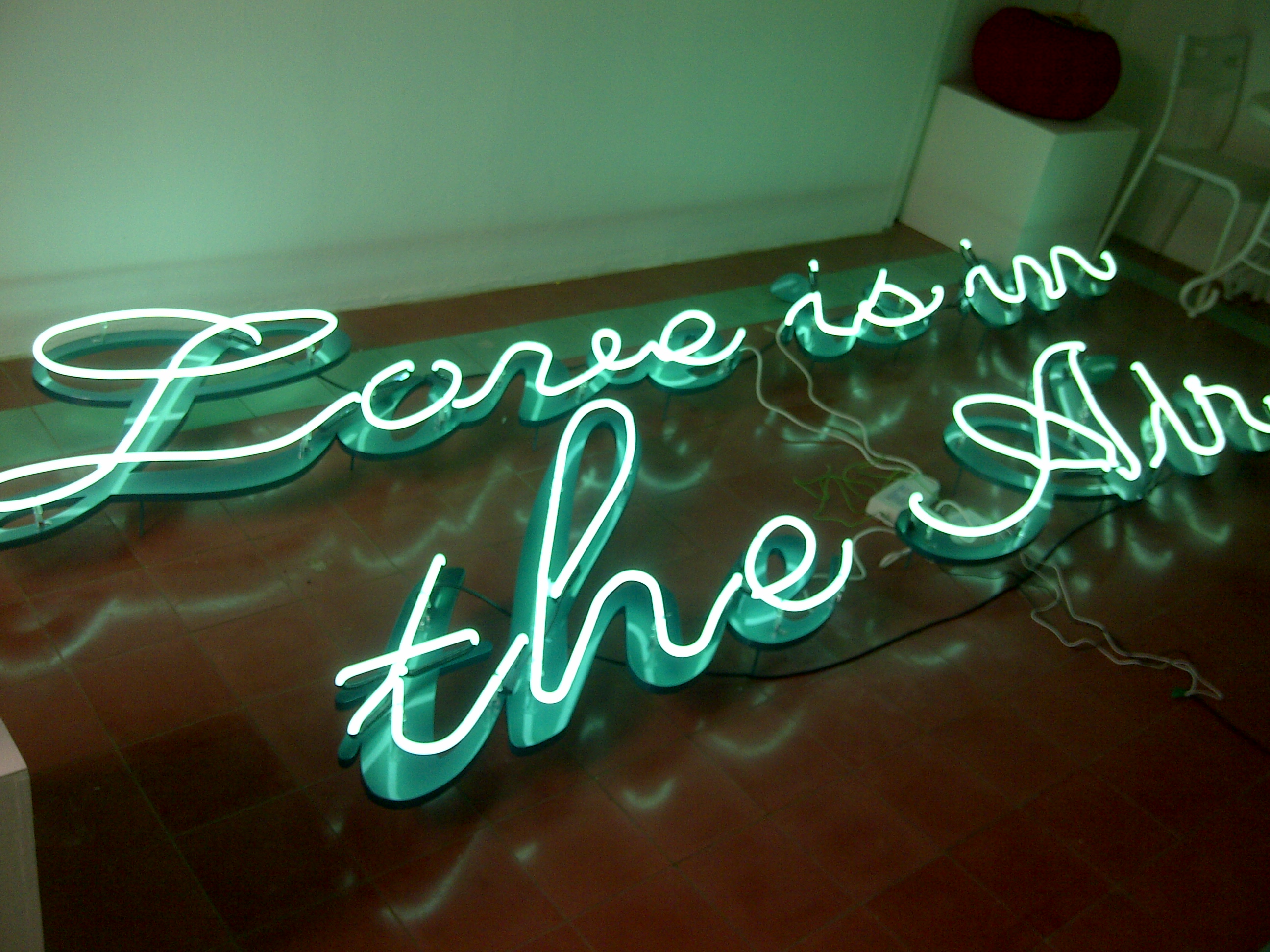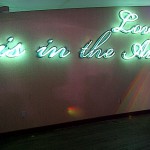 Love is in the Air – Moving energy
Public space installation / Light-sign on building
Invitation project AIR ART  by the Aruba Airport Authority (AAA)
Queen Beatrix International Airport Aruba 2012
The Airport is the official door, to enter and leave Aruba.
Once I worked at the airport because my family is into the Airport business.
As I have noticed that the energy at the airport is higher than at another place, especially working with small deadlines tasks,I realized that it was not a place where I could work for long as my family does. That's because the level of pressure is to high and my adrenaline was in a constant overdrive. When you are working on the ground it gave me the same feeling I was going to travel in an airplane .It give that sensation of an unbalanced sensation. I thought well I am going to make something that will make me feel or will make someone who may feel also this unbalanced sensation a better or more peaceful energy. At this same moment I thought of Love , love in the Air , love must be in the Air, Love is in the Air .Love is the only feeling that produce immediate peace. As for my surprise this text has a moving version to. Love is the Air song by Barry White.
So instead of feeling fear going in the sky , you will see this text and the love will stay with you Moving into your mind body and soul.
2014
Caribbean Crossroads of the World
PAMM Perez Art museum Miami ,1103 Biscayne Blvd.
April 18, 2014 – September 17, 2014
2012
Museo Del Barrio, Manhattan Fifth ave, New York
Project Caribbean Crossroads of  the World 
Curated by Elvis Fuentes and Susy del Valle
www.caribbeancrossroads.org
invitation by Tobias Ostrander
Chief Curator and Deputy Director for Curatorial Affairs
Following credit line-Curatorial Team
Maria Elena Ortiz ;Curatorial Assistant
Elvis Fuentes; Programme Curator  Crossroads Project
Oriol Tarridas Photography, Installation view Photo by
Orial Tarridas Caribbean Crossroads of the World, Pérez Art Museum Miami
Naomi Patterson; Senior Registrar
Renwick Heronimo; logistics outsourcing from Washington to Miami Osaira Muyale; Aruban Artist The theme of  Patriot Acts studies."Cultural Identity; Patriot Acts studies the idea that artists and intellectuals in the Caribbean were instrumental in the creation of the identity, both visual and conceptual, of the young Caribbean nations, which often pitted traditional, academic aesthetics against the "authentic," indigenous and African past of the region.Artist Project; Only Beautiful Words 2002-2014. LightText/Poem in Native Language 'Papiamento' written in 2011.Concept: How language can transform space and time and influence Cultural identities
by several different factors such as religion, ancestry, skin colour, language,class, education, profession, skill, family and political attitudes. These factors contribute to the development of ones identity.Language develops from the wants of the people who tend to spread themselves in a common given location over a particular period of time. This tends to allow people to share a way of life that generally links individuals in a certain culture that is identified by the people of that group. The affluence of communication that comes along with sharing a language promotes connections and roots to ancestors and cultural histories.Language also includes the way people speak with peers, family members, authority figures, and strangers.Language learning process can also be affected by cultural identity via the understanding of specific words, and the preference for specific words when learning and using a second language.Since many aspects of a person's cultural identity can be changed, such as citizenship or influence from outside cultures can change cultural traditions, language is a main component of cultural identity.Cultural identity is the process of exploration and questioning about one's culture in order to learn more about it and to understand the implications of  being in that culture." During this stage a person will begin to question why they hold their beliefs and compare it to the beliefs of other cultures. Such as being born in Aruba and have a Dutch Passport and heritage.For some this stage may arise from a turning point in their life or from a growing awareness of other cultures. This stage is characterized by growing awareness in social and political forums and a desire to learn more about culture. This can be expressed by asking family members questions about tradition, history ,past , background. This stage might have an emotional component as well.Cultural identity achievement: "is characterized by a clear, confident acceptance of oneself and an internalization of one's cultural identity." In this stage i allow the acceptance of  my cultural identity and how to deal with hybrid stereotypes , any discrimination, and approach negative perceptions, s.a. rejection,repulse,diavowal or non-acceptance. This usually leads to an increase in self-confidence and positive psychological adjustment.
For more infomation search: www.pamm.org
A'bo ta ami     –     You are me
A'bo ,Ta  e tempo cu ta surpasa mi bista
You are the time that surpasses my vision
A'bo ,ta e aire cu ta sostene mi curpa
You are the air that sustains my body
A'bo,ta e brisa cu ta rondona mi alma
You are the breeze that surrounds my soul
A'bo,ta e awa cu ta corre den mi wowo
You are the water that  runs in my eyes
A'bo,ta e color cu ta carisia mi pensamento
You are the color that caresses my thoughts
A'bo,ta e luz cu ta brilla tur momento
You are the light that shines all moment
A'bo,ta e alegria cu conocemi
You are the happiness  that knows me
A'bo ta ami You are me